Guests: 15
Destinations: Island of Fernando de Noronha and Recife
Duration: 5 days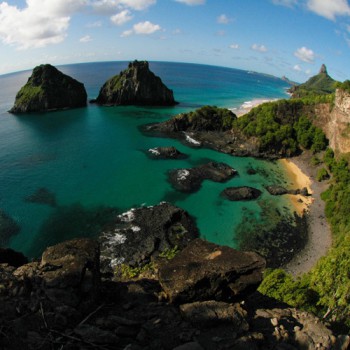 The best rooms in the lodges on Fernando de Noronha were reserved for these family members present for the golden wedding celebration. The religious service at which the marriage vows were renewed was held on a beautiful morning in the island's chapel specially decorated for the occasion and with live musical accompaniment. The celebrant was a priest from Recife!
After the ceremony, we prepared a celebratory open-air banquet on the Cacimba do Padre beach where guests were comfortably seated on mats and cushions.  Further activities included massage sessions, dune buggy rides, an exclusive dinner at the Palhoça da Colina restaurant and the full-time services of a local guide.
After leaving the island, some of the guests continued on to Recife for a city tour and a visit to the well-known artist Francisco Brennand's studio.
Highlights:
A beautiful service in the chapel to renew marriage vows.
Open air banquet on the Cacimba do Padre beach
A private boat available for scuba diving and fishing with ultra-fresh ceviche made to order.